7 Spirits With Crazy Cult Followings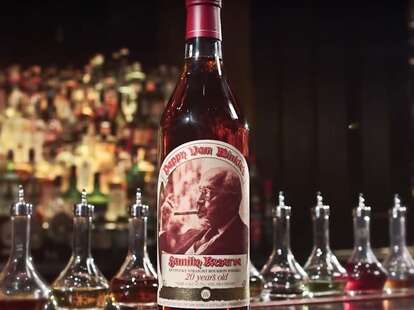 Cult movies like The Big Lebowski and Rocky Horror Picture Show may have armies of dedicated fans who line up in full costume to attend midnight screenings, but the liquor world has its own breed of superfan. While these enthusiasts might not show up to the liquor store dressed like their favorite distiller, they're just as devoted to their passion as the Lebowski fan who only drinks Caucasians and has a closet full of bathrobes.
If you've ever been curious about that line in front of the liquor store, here are five cult spirits people go gaga over.
This extremely limited blended whiskey is master distiller Rob Dietrich's indelible mark on the whiskey world. The spirit's devout followers—appropriately dubbed the Stranafans—wait hours in freezing temperatures for a bottle (customers are limited to two). Available only once a year, in December, exclusively at their Colorado distillery, the Snowflake whiskey is finished in a variety of unique barrels from all over the world. Named after a summit in the Colorado Rockies, the 2016 release was called Crestone Peak, and was aged in a combination of casks that formerly held Spanish Syrah, Madeira, old vine Zinfandel and Saint Croix rum. Given that fans risk losing appendages to frostbite for a bottle, it makes absolute sense that aftermarket sales of Snowflake are almost unheard of.
Founded in Milan, Italy, in 1845, this intensely bitter, menthol-flavored spirit found its first followers in San Francisco during Prohibition. Today, the city allegedly consumes 35 percent of all fernet imported into America. Over the years, Golden State bartenders spread the love for the amaro across the country. Referred to as the "bartender's handshake," the spirit is now an industry insider favorite, often taken as a hangover cure. If you haven't tried this Italian digestif, Fernet Branca can easily be found at almost any liquor store or bar. If you want to win the respect of your bartender, buy a shot for yourself and one for them when you're ending the night.
Allen's Coffee Brandy is the No. 1 consumed spirit in all of Maine. On average, sales of the spirit equate to one bottle sold for every man, woman and child in the entire state, which has a population of 1,300,000. Nearly a million bottles of Allen's were sold in Maine in 2011 alone. The coffee-infused brandy is served in hot coffee, with equal parts Moxie (a beloved Maine "pop"), or with equal parts straight milk in a pint glass for the Maine favorite, the Sombrero. Dubbed the "Champagne of Maine," Allen's Coffee Brandy is made by steeping whole coffee beans in citrus-based brandy, before sugar and water are added to dilute the spirit to 60 proof. It's a bit like overproof, naturally caffeinated Four Loko—but a whole lot better. It retails at $13.99 a liter, so we're loading up the trunk next time we're up north.
This ridiculously bitter schnapps came to Chicago with the wave of Swedish immigrants who came en masse to the city in the early 1900s. Flavored with wormwood, the aromatic herb used in amari, vermouth and absinthe, Malört was developed in Scandinavia as a medicinal tonic in medieval times. In Chicago, during Prohibition, the infused spirit was still available because it was legally classified as "medicinal alcohol." The schnapps was and continues to be a staple in Swedish and Polish bars, commonly shared amongst bartenders and considered a rite of passage. Now, due to its popularity, there are several local, craft distilleries that produce their own versions of Jeppson's schnapps (Letherbee Bësk is one of our favorites)—but no other brand can call its bitter, herbaceous product Malört.
This herbaceous liqueur has been made in France since the 1730s by Carthusian monks in the French Alps. Supposedly developed by French diplomat François Annibal d'Estrées in 1605 and gifted to the Carthusian monastery, Chartreuse is made with a secret, closely guarded recipe and can only be made by this specific sect of monks. There are two types of Chartreuse: yellow and green. The yellow is a milder, sweeter variation of the green, with a lower ABV. Not only is Chartreuse fetishized behind the bar amongst mixologists for its place in many classic cocktails and its shootability, but it has also become a prized collectable. With a range of vintage bottlings available—and older bottlings becoming scarcer and scarcer—Chartreuse's popularity amongst bartenders has hit an all time high. The Saratoga in San Francisco dedicates an entire section of its cocktail menu to vintage Chartreuse, selling two ounce pours of green Chartreuse from the 1920s for $440. Maybe it's time to dust off those bottles in your grandfather's basement.
Made by Buffalo Trace Distillery, this wheated bourbon is steeped in tradition, with little care for expediency. While bottlings were initially priced below $100 and quasi-readily available upon release, the Pappy Van Winkle brand unexpectedly became a cult whiskey phenomenon in the early 2000s when demand rose and supplies became increasingly scarce. Now, these bottles disappear quickly from liquor store shelves and aftermarket prices fetch ridiculous sums of money; the 15-Year Pappy Van Winkle fetches upwards of $1,400 on the black market, while their 23-year-old whiskey can go for $2,900. The best way to try these whiskies is at a high-end spirits bar, with the help of the "Pappy Tracker" app, or by sleeping at your local liquor store until the next bottling hits shelves.
All it took for this Japanese whisky to reach cult status was the 2013 offering being named "the best whiskey in the world" by influential Whiskey Bible author Jim Murray. After that, every whiskey bar and connoisseur in the world drank Suntory out of their supply. Now, bottles trickle into liquor distributors, cocktail bars charge double the price for a pour, and the distillery tasting room in Japan (where it's made) doesn't even have any for purchase. While the current offering from Yamazaki doesn't fetch prices nearly as high as Pappy, vintage bottlings are becoming increasingly rare and demand extravagant sums at auction.