The Ultimate Cheat Sheet for Well Liquor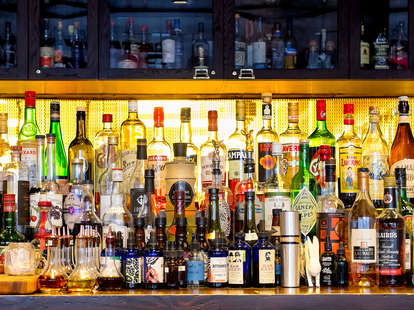 Behind every bar, there's the well, a rail stocked with at least one bottle of tequila, vodka, gin, bourbon or rye, scotch and rum. These bottles are also referred to as the "house pour" or the "house brands." Essentially, they're the bar's go-to bottles when you ask for a basic drink or a shot. There is no set requirement for what liquor is stocked in the well, or the quality of the spirits, but you can usually expect well bottles to be pretty cheap. But that doesn't mean the liquor is necessarily bad. Sometimes the well spirit is your best bet, giving you the best bang for your buck.
After drinking our way through a selection of wells, we devised a well spirit cheat sheet, which divides some of the most common well bottles into the best (great for any drink or even sipping straight), the good (still drinkable without a mixer, but probably better when mixed with a splash of something) and the acceptable (reserved for cocktails only). Keep this list handy so the next time you ask your bartender what the well whiskey is, you'll know how to react.
Tequila
Best:Cimarron Tequila
This reposado tequila is perfect anyway you drink it. Its subtle agave funk, notes of cinnamon, white pepper heat and creamy finish make it great for drinking on the rocks with a lime wedge or in a tart and spritzy Paloma.
Good:Pueblo Viejo Blanco
Clean, minimal and focused, this blanco tequila is great on the rocks or neat, as well as in a variety of cocktails. One of the best values on the market, Pueblo Viejo has the bold flavors of a tequila twice the price.
Acceptable:Sauza Silver
A simple, light spirit with balance and subtle herbal notes from the agave, this commonly used well tequila is great as a shot (especially with the traditional salt and lime) or mixed into drinks like Margaritas.
Vodka
Best:Tito's
You simply can't go wrong with this Texas-made spirit. Slightly rustic, with a rounded, smooth finish, it is just as good in a Martini as it is an a Vodka Soda with lemon.
Good:Wodka
Made in Poland, this potato vodka is a great spirit for the price. As more and more bars discover its versatility, Wodka is slowly but surely becoming a well staple.
Acceptable: Georgi
Bright and acidic, with enough alcoholic heat to strip the paint off of a car, this is not a sipping vodka. Order it with a heavy pour of soda and a squeeze of fresh lemon, or with any sweeter mixers (such as cranberry juice) to hide the hot esters.
Gin
Best:Ford's Gin
A flawless spirit, this gin from Simon Ford was created specifically for bartenders. Floral and citrusy, it has a clean, balanced mixture of aromatics and just the right amount of juniper and coriander. Try it in a Martini with a twist to bring out the lemon oils and floral aromatics.
Good:Gordon's
A London Dry-style gin with subtle flavors of juniper and bold citrus undertones, this spirit is an affordable, cocktail workhorse. If you happen to use it in a spirit-forward drink like the Martini, make sure you order it wet with plenty of vermouth.
Acceptable:Seagram's
Light in flavor, with a touch of sweetness on the finish, this gin works particularly well with anything citrus juice (try it in a gin-based Greyhound) or a craft tonic.
Bourbon
Best:Wild Turkey 101
There's nothing wild about having this overproof bourbon on the top of our list. It's a rich, mouth-coating whiskey with an abundance of spice and alcohol heat. Drink it neat (round after round, please) or in an Old Fashioned.
Good:Evan Williams Black Label
This bourbon proves that just because a spirit comes from the bottom shelf doesn't mean that it has to taste like it is. Deceptively rich, it can be sipped slowly and enjoyed, not just taken as a shot.
Acceptable: Kentucky Deluxe
While this blended whiskey is a bit rough, it certainly serves its purpose. Shoot it with a pickleback or mix it with spicy ginger beer.
Rye
Best:Rittenhouse 100 Proof
This rye is bold and boozy, with a backbone of black pepper spice. Order it neat or in a Manhattan.
Good:Old Overholt Rye
Almost tied in quality with Rittenhouse, this rye lacks the peppery heat of its slightly superior sibling. It's softer and rounder, making it great for sipping over ice or pairing with a beer for an easy-drinking Boilermaker.
Acceptable:Jim Beam Rye
With only 51% rye grain used in the mashbill, this whiskey tastes more like a bourbon than a spicy rye. But it will still do the job. Mix it with Coke or ginger ale for a simple and satisfying, if somewhat unremarkable, cocktail.
Scotch
Best:Black Bottle Blended Scotch
Famed for its black glass bottle, this blended scotch is elegant and complex with a subtle smokiness and a touch of salty sea air and brine. Drink it neat or with one large cube of ice.
Good:Dewars White Label
A blend of 40 different single malts and grain-based whiskies, this scotch can be found in just about any bar. Light and malty, with a whisper of smoky peat, it's always a reliable call.
Acceptable: White Horse Blended Scotch
Deceptively cheap, this blended scotch uses whisky from Lagavulin as one of its main components. Light and honeyed, this sumptuous whisky is great in a cocktail (try it in a simple Scotch and Soda) and even okay on its own over ice.
Rum
Best:El Dorado 8 Year Rum
This rum shouldn't be as inexpensive as it is—but don't let the brand know. Bursting with flavor, this Guyanese demerara rum has notes of custard, caramelized flan, flambéed bananas, vanilla, allspice and cinnamon. Perfect for cocktails, this spirit will make all your tropical libations come to life.
Good:Ron Abuelo Anejo
A fiery, complex aged rum with flavors of vanilla, toffee and oak, this Panamanian rum tastes much better than its price point would suggest. Perfect with a squeeze of fresh lime, it also goes down easy as a shot.
Acceptable:Bacardi Silver
This rum can be found in pretty much any bar around the world. Light with a touch of ripe banana and coconut creme, the hint of sweetness on the finish makes it perfect for citrusy spritzes and minty-fresh summer libations.