5 Cozy Spirits to Drink When You're Sick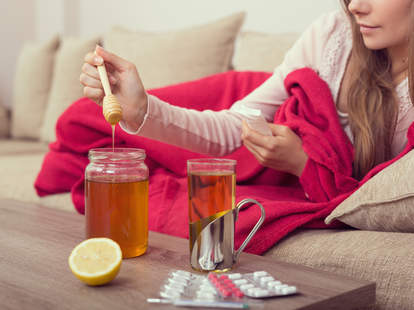 Impact Photo / Shutterstock
Unfortunately, there is still no real cure for the common cold. So, to best the virus, we turn to spicy soups (pho real), herbal remedies and cocktails like the Hot Toddy. But if making a cocktail is just too much effort in your weakened state, these five spirits are the perfect boozy prescription.
Big, bold and boozy, this overproof, bottled-in-bond rye whiskey is the perfect spirit to alleviate a cold. Its abundance of white pepper heat on the palate and scorching alcoholic finish will burn the sickness right out of you. For best results, drink this spirit straight. But if you can't handle its strength, try it in an herbal remedy like a Sazerac, which has both bitters and absinthe, two spirits that were originally used as medicinal tonics.
With diaphoretic properties, ginger root warms you from the inside out and makes you sweat out your sickness. Infused with heaps of fresh, organically grown Carolina ginger, Virgil Kaine bourbon is the perfect way to get your dose of the piquant root. While it's delicious enough to sip straight, the spirit's honeyed sweetness—and fiery, ginger-heavy kick—make for a deliciously curative Highball when mixed with a packet of Emergen-C and a topper of seltzer.
With inherent antibacterial properties, honey is one of nature's greatest medicines. A mix of Jack Daniel's whiskey and honey, Tennessee Honey is the only remedy you need the next time you catch a cold. The spirit can be sipped straight with a cube of ice and a slice of lemon, or used as the base of a Hot Toddy (aka the greatest known cocktail for curing the common cold). However you drink it, you'll feel its soothing effects after the first sip.
While Kenbishi Kuromatsu sake can be sipped cold, its full palate (and healing powers) are revealed when it's warmed. When the sake is heated to a piping 104 degrees (the optimal temperature for hot sake), hints of roasted cashew, sushi rice, fresh straw, raisin and creamy nougat emerge on the palate. If you're courageous enough, make yourself a Tamago-zake, an ancient Japanese remedy that mixes a raw egg into the hot sake. To concoct, heat the sake over a double boiler, pour it into a mug, beat the whole egg into the sake (use a matcha whisk if you have it) and garnish with a touch of freshly grated lemon zest and fresh ginger.
Turmeric has been appreciated for its dietary and healing properties for centuries. Rather than try to find the root fresh or use the herb in powdered form, opt for this golden dram. Infused with fresh turmeric root, coriander, rose petal and lemon peel, Von Humboldt's Turmeric Cordial is ripe with bitter, herbaceous flavors. Mixed with a heady topper of seltzer, the liqueur becomes a boozy alternative to Alka-Seltzer.