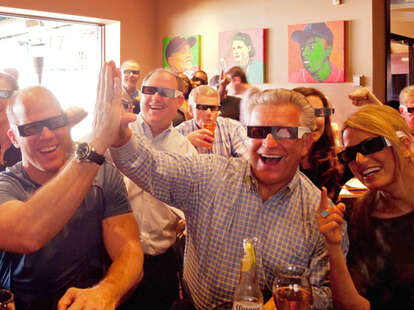 The science of 3D has come a long way, from crude visuals of Niagara Falls in the early 1900s, to even cruder visuals coming directly at your eyeballs courtesy of Lexington Steele in the 2011 Hustler blockbuster This Ain't Avatar. Don't Google that at work, but do get the best public view of pigskin action available in Atlanta, by watching 3D football at Dantanna's Buckhead.
Starting this very weekend, the upscale sports-spot's uptown location is introducing ATL's first public three-dimensional gridiron-viewing system on ESPN 3D, thanks to an insistence on staying ahead of the A/V curve (they had all HDs when they opened in '03, and got LEDs when everyone else was just getting plasmas) by Dantanna's founder David Clapp, so be sure to give the guy an ovation. They've got five 65in 3-Ders, including four at the main bar and one in the 20-seat private dining room; ask and ye shall receive a free pair of paper 3D glasses, which you'll need since they eschewed an "active" setup (requiring heavier, chargeable glasses that only work from straight on) for the "passive" type, which lets you see large men getting aggressive from all angles. Further enhance your state of mind via gourmet Marys from their new "Sunday Bloody Sunday" menu, which offers five made with house-infused spirits like chipotle or horseradish vodka, "Italian" rye whiskey (w/ basil/thyme/oregano), and applewood bacon bourbon, which they suggest you order rimmed with smoked salt, although including smoked Pepa & smoked Spinderella shows you really know how to Push It.
If you visit on a non-game day, they'll pass you glasses and let you surf other depth-enhanced channels like 3net for Discovery Channel, even though when it comes to Dirty Jobs, nobody's got Lex beat.