Nerds, beer, and hot girl dunk tanks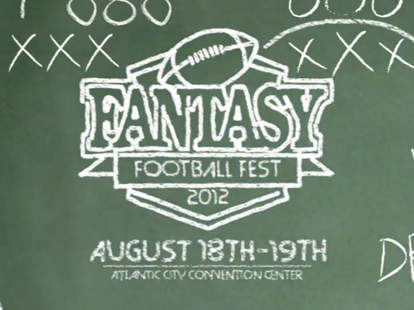 When it comes to Fantasy Football, your team a) generally sucks, and b) generally has a team name that doesn't (Breaston Largements!). Helping you fix the former: the first-ever Fantasy Football Fest, a roto paradise landing in AC next weekend from the same dudes who put together New York Comic Con. Now before you're all, "but dude, we always have our 16-team draft in my buddy Snake's studio, there's no way I'm going to this", you should know there's also gonna be 14hrs of beer garden-ing, models in dunk tanks, and actually famous NFL players (Mike Vick, Lawrence Taylor, Joe Montana, KEITH BYARS!!!), meaning you're probably gonna wanna go to this if..
...you get all the jokes in The League: Matthew Berry'll be there, as will MATTHEW BERRY, and also Matthew Berry to help make sure you don't take Mason Crosby in the first round (duh, you want Janikowski!), plus they'll do an expert draft with a dream line-up of SI & ESPN columnists, and set aside enough space for you to do your own draft with a dream line-up of... your friends
...you like beer, and food from the world's largest brat-roaster: There's a 14hr tailgate that'll include a beer garden (w/ Flying Fish & Brooklyn Lager) and the world's largest brat-roaster (phew), which'll turn out two days of parking lot BBQ meats, crab cakes, and Ruxins tacos
...you like models, and dunk tanks: They'll have both. And also: the Lingerie Football All-Stars
...you have a pair of Skechers that would be infinitely cooler if Joe Montana signed them: The exhibition floor'll have a Jugs Machine and passing drills, 40+ exhibitors raffling fantasy league trophies, Eagles tix, etc., and a bunch of NFLers signing stuff, including Montana, Tony Siragusa, Jim Kelly, LeSean McCoy, Joe Theismann, and... KEITH BYARS!!!