Like having a personal trainer, but on your phone, not theirs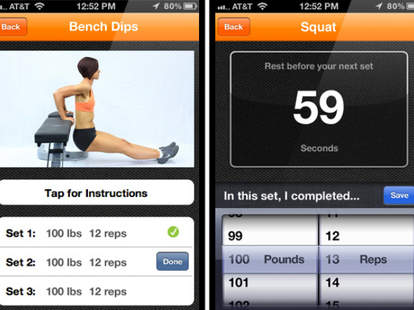 Actually not a really quick & convenient place to buy vitamins, Vitogo's a just-dropped, idiot-proof personal training app from a couple of meese-pressing Canadians that builds/ coaches you through a long-term customized strength & conditioning regimen, all without casually commenting on how poor your lunge form is while simultaneously sexting chicks at GNC.
Here's how it works: after entering your gender, weight, fitness goals (build muscle, lose a few pounds, stop reading US Weekly on the treadmill), and how long you've already been working out (just starting, a few years, I'm actually Todd Marinovich), Vitogo uses built-in fitness expertise/some kind of technical razzmatazz to generate a seven-day workout plan broken down by type of exercise, amount of weight to lift, and number of reps. Assuming you've never heard of a power snatch (!) and/ or own a watch, there're also instructions/ videos, and a timer to tell you how long to rest; plus, everything downloads to their website where you can track progress (using stylish graphs and charts), earn trophies for achieving goals (you're all winners!), and/ or even draw motivation by linking to FB/ Twitter and sharing with friends that you're utterly incapable of doing more than two pullups not standing on a chair.
And because even with a fancy app going to the gym can get boring, Vitogo adjusts your workout based on your progress and even provides a new plan every 8-12 weeks, so you can keep things fresh in a way buying ginkgo biloba from those sluts at GNC never could.