Finally watch fights not involving your parents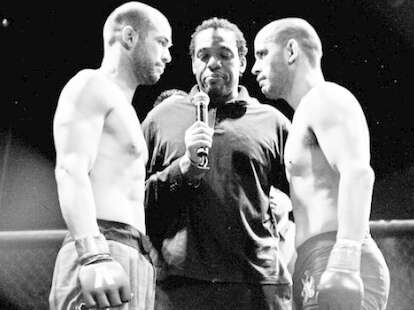 Just now throwing their first LA-area event, California Fight Syndicate ignores several of Brad Pitt's rules re: Fight Club protocol by rather vocally promoting both their amateur and pro MMA battles across SoCal in far-flung locales like Santa Maria and Ventura, which is used to hearing (the) Body blows.
The fight card for the UFC-style match includes pro dudes from the TV show The Ultimate Fighter, which is apparently nothing like the Super Nintendo game featuring a lame, shirtless martial artist named Rick, as well as a main event between some dude known as the "Blood Spiller" and another called "Powder" (oh, how ye have fallen, Sean Patrick Flanery). There'll also be a ton of super-hot ring girls (featured prominently on their website) who'll definitely want to talk to you about your production assistant gig, plus four amateur fights that were originally supposed to pit USC vs UCLA students, until that was nixed, as clearly Rose Bowl section 238's non-compete clause must've kicked in.
And because we love and care about you deeply, Thrillist Rewards has got crazy savings on seats, plus an afterparty at South with food and drinks deeply discounted, though judging by your own body, partaking in excess will not mean destroying something beautiful.