Two boards are better than one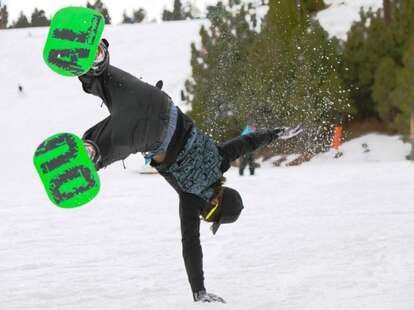 Because Mammoth's finally covered in something other than the snow-less tears of people getting laid off, and your snowboard's still covered in No Fear Snowboard Team decals, stop using it and snag a new kind from LA's own Dual, who've essentially cut a normal snowboard in half, so you get the "fun and ability to ride like a snowboard" with the "freedom and mobility of skis".
The Specs: The poplar wood core and fiberglass board has a PU coating on top, comes fully compatible with whatever bindings you've already got, and is finished with an "all-temperature wax for out of the bag rideability", something that definitely can't be said for cats.
The Advantages: You don't have to unlatch your bindings to walk on different terrains, it helps you target and train, build, and strengthen muscles that'll come in handy when your dad threatens to disown you if you Dual Board next to him, plus you can allegedly conceptualize and pull off completely new tricks including a "ninja-like flip-n-kick", whatever that is.
The Disadvantages: People may think you're wearing two cafeteria trays on your feet and, worse, no one will get to see your sick No Fear Snowboard Team decals.