Your own personal rich-person gym... with a roof!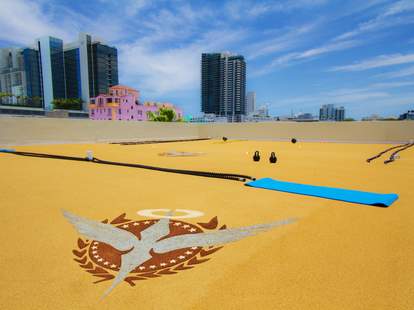 You know that dude at the gym with the hairy back who sweats all over everything and screams out Journey lyrics while he works out in jean shorts and AquaSocks? Yeah, that guy's awesome. Unfortunately you'll never see him again if you join Base Gym, which offers hyper-hands-on training, enforces a crazily strict application process, and has a massive rooftop where you can train while enjoying 360-degree views of the beach, and all the losers who aren't cool enough to belong to this place. The breakdown:
There's no membership fee, but you have to be accepted to even set foot inside, which's basically determined by your fitness goals "meshing" with their concept. If you're Marky Mark, that also helps.
It's all private training sessions (either one-on-one or in a small group), and there'll never be more than four to five people in the studio at a time.
They've got free weights and machines, in addition to pain-inducing equipment like kettle bells and heavy chains, which is what Marty McFly keeps calling chains, and Doc just never gets what he's talking about.
Classes include Abs Assault and "NOT meditation!" Warrior Yoga, plus one taught by an ex-Israeli army Krav Maga expert that Jew will really enjoy learning from. Gentiles too!
They'll haul whatever equipment they need up to that ridiculous roof, which's the only place non-members can take classes, so Don't Stop Believin' that you'll see your buddy with the AquaSocks again at some point.