Climb to such great heights on Eat Street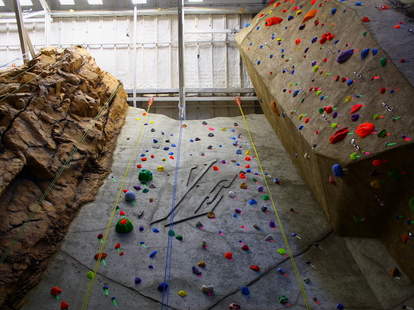 Ready to reinvent the term "social climbing" -- unless the cool kids aren't reinventing terms anymore, in which case, nevermind! -- is Vertical Endeavors. A wall-scaling fun center just built into the last of Nicollet Ave's storied ice house buildings, it's transformed the massive (10.5k sqft) space into a first-rate indoor climbing facility bolstered "with every amenity", almost as good as Underwater Adventure's "every anemone". Enjoy:
Walls that at 50-60ft are among the tallest in the country (and twice the height of VE St. Paul), with 25k total square feet of "climbable surface" -- just hold on tight lest you learn how terrifying surface-to-air can really be.
Changeable, color-coded routes that follow a 5.0-5.15 scale (5.0 = easy vert climbs, 5.15 = don't even try) called the Yosemite Decimal Rating System, plus tons of automatic belays.
Lead climbing and top-roping on the tall walls bolstered by separate, lower bouldering caves, where enthusiasts can free climb with less risk of injury/harness-impotence.
A full-service indoor/outdoor pro shop hawking equipment from brands like Petzl, Black Diamond, Scarpa, and Edelweiss, and also offering rentals -- hopefully Enterprise, as all but the most expert climbers need someone to pick them up.

And, should you tire of their indoor lessons and clinics (not physically, as that's sort of the point), they also take it outdoors to teach techniques on natural rock in places like Taylor's Falls and Devil's Lake, which sounds like a barren body of water where any life would be an anomaly.