Run two miles, eat a quart of ice cream... then run two more!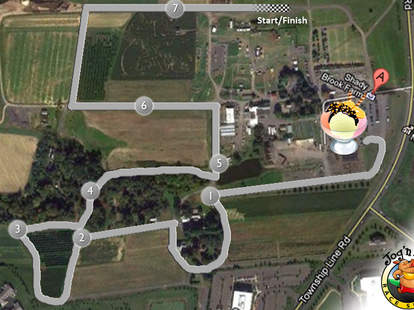 From two BuxCo bros looking for new running challenges, Jog 'n Hog's a seriously screwed up (but totally awesome!) one: an endurance race going down Sunday in Yardley where you'll run two miles of cross-country terrain (think gravel, asphalt & dirt), eat a thick, heavy-creamed quart of Uncle Dave's Vanilla Bean, then run two MORE miles back to the start. You see the issue here, right? This race is going to be, um, hard to stomach, so take a look at the course map, pick out your favorite trigger-pulling finger, and read on for seven inconspicuous places to, uh, problem-solve
1. A quarter-mile of post-ice-cream running'll put you in a cluster of trailers and trees, making a great spot for your own bark
2. You'll be hanging a left at the berry fields, where you can't grab any chunks of edibles, though you will be able to leave a few of your own
3. Johnny Appleseed planted orchards throughout PA, so as you round the one just off this course, consider ducking aside and planting ice cream seeds
4. This spot's right in the thick of the woods, with heavy brush all around you. It's almost too obvious, so… aim for the shoes of the guy beside you
5. You've made it back to the lake, where you could easily pretend to be Arthur and search for Excaliburggghhh
6. There's some holiday light show remnants along the path here, and Santa wears a lot of boots..
7. The finish line's in sight, green pastures to each side. Making a green shirt won't be a problem, as you get a shirt for finishing. Problem solving!