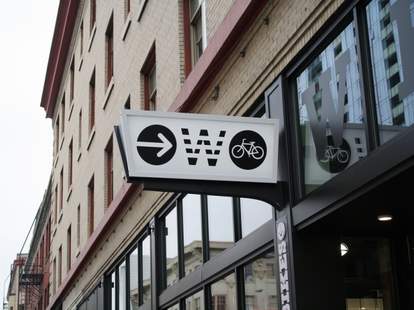 For important purchases, a range of options is key: when buying a TV, you may want a high-response-rate plasma for gaming, an LCD optimized for web browsing, or a 3D job perfect for sitting there in glasses, looking like an a-hole. For a two-wheeler shop putting range on range, get to West End Bikes.
From the one-time proprietor of River City Bicycles and his pedal-passionate tech engineer co-owner, West End reps a ridiculously diverse (even for Portland) roster of gear and cycles, from hardcore mountain to laid-back touring jobs, in a huge, airy shop with massive windows and a roll-up garage door opening to a comfy lounge, all built to introduce people to an "adventure in cycling", as if you didn't get enough of that with your girlfriend. As a Specialized concept store, West rocks the company's rarest two-wheelers, including the low-key, unbranded, monochromatic Globe models with a picture-frame head badge that can hold art/photos/mad Fryin' Brian Garbage Pail Kids cards; they've also got "aspirational" brands like locally crafted Beloved, and the decidedly wild engineering of Calfee Design's bamboo bikes, complete with hemp lugs, though if you've been smoking it, the only thing you're lugging is Home Run Pies. More than spokes 'n sprockets, West's also rocking gear like normal sneaker-looking recessed clip-ins from DZR; Merino wool-wrapped Lycra fiber outerwear from SF's Mission Workshop; classy, saddle-to-dinner-seat all weather cycling duds from NY's Outlier Clothing; and for serious riders, super-padded Swiss Assos "bibknickers", the latest in a long line of lettuce-based pants that also includes Enyce-berg jeans.
Because they care, West End's planning to set a portion of the store aside strictly for locally produced bike fashion -- simultaneously supporting local industry and swaddling your B-cups.