Get more of athletes without risk of restraining order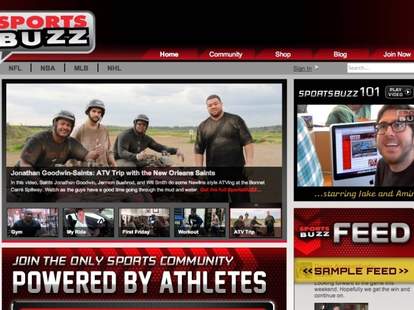 Getting behind-the-scenes access to pro athletes isn't easy, unless of course you're a hot chick who is. Get exclusive access without the baby drama, at Sportsbuzz.
A newly launched Chris Cooley joint, Sportsbuzz's an iPhone-compatible website promising fans "inside access to their favorite teams or athletes", with legit participating pros feeding info/ updates directly to their personal pages (sort of like a collection of exclusive jock blogs) via video, photo, and text, so you'll probably want to just skip Favre's. Sign up by choosing which player(s) you're most into, and then receive "buzzes" from them (actually frequent updates pushed to your phone); Cooley, for example, has in the past couple weeks posted everything from a road tripping vid of him wielding a "Show us your [breasts!]" sign, to a clip of DeSean Jackson betting Chris he can't snatch a fish from their hotel's koi pond, to one of him boasting how awesome his Super Bowl Party was, even though it'd be even more awesome if he wasn't able to have one. For the fan who wants it all/doesn't mind looking at his phone a lot, they've also got the option to follow an entire team (so you're pushed updates from anyone on it), and despite just ramping up, they've already got an impressive roster of participants, including like half the Redskins, 16 Saints, 12 Chicago Bears, and a handful of Cleveland Browns, marking the first time since Bernie Kosar that the Browns have been used in the same sentence as "impressive roster".
And to make this thing a two-way street, you can respond directly to the players via a feature simply dubbed "fan mail" -- really the only way you're ever going to be able to talk to these guys, assuming you're a fan male.