Custom bike trips big on the different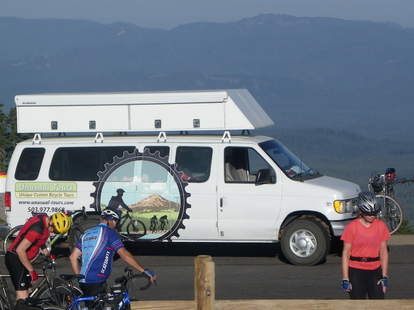 Organizing good times with a group of pals can be tough, mainly because everyone would rather watch Family Matters. For two-wheeled group shenanigans that'll make your buddies ask "Did you do that?", book a trip with Unusual Tours.
From an avid fan of ventures like Reach the Beach and Cycle Oregon, Unusual fun-sizes big bike rides via custom-designed multi-day trips for small groups with the full support that a public cycle event offers, but without having to be stuck with that "one stranger who ruins it all", because no one has the energy to do the Dance of Joy with Balki at every stop. After you set parameters (location/ miles per day/ lodging/ side trips) Unusual builds a tour including support staff with med training, a SAG wagon for laggers capable of moving all bikes and riders at once, a luxury camp setup with a possible outdoor movie screen, and a gear van with a keg cooler, plus non-bike activities like rafting, so don't do that one with Ned Beatty. Or if you're a true champion, do the Thrillist Thrill Ride, a four-day for six between Banks and Eugene that includes about 40 daily miles of pedaling interspersed with stops at towns sporting breweries like Golden Valley and Steelhead, plus side trips including the Evergreen Air & Space Museum, downhill mtn biking at Black Rock, weirdo-hanging at the McMinnville UFO Fest (if you go in May), and a finale skydiving adventure, which suddenly explains why there're so many UFO watchers around.
Though the custom jobs are their main gig, they also have plenty of ready-made Oregon jaunts like a coast ride that'll cruise past the Tillamook factory, where you'll never have to ask if they've got any cheese.