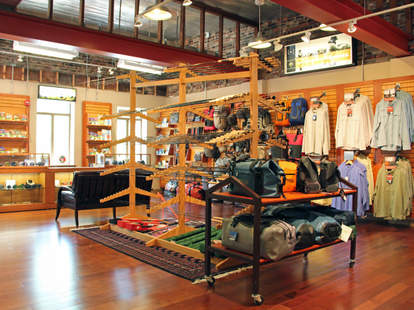 From the fresh air, to the water's hypnotic flow, to the ones that wind up hooking your friend's flesh because you don't know how to cast, fishing has so many lures. Ensure that last thing doesn't happen, at least, with a trip to Urban Angler.
Just now open after a relocation to Old Town, Angler looks like a Dick's Sporting Goods whose fly fishing section performed a hostile takeover, with their racks of gear supplemented by a full range of classes taught by a guy they call "Grizzly", but don't worry, it's just a silly name (he actually acts way more like a kodiak). Beginners can start with a fly-tying course (two 3hr sessions) that covers the actual attachment of fly to rod (... which apparently takes a while), then schedule a "basics of rod casting" session where Grizzly'll take you down to the waterfront to critique your form, and then, when he's made you feel all bad about your body, tell you how to use the fishing rod. Once you're hooked and ready to buy your own equipment, the store has you right where they want you everything you need, from ultra-strong "Sweetgrass" rods cut from bamboo, to exclusive Patagonia duds not offered at the GT store, to Simms bags/ vests/ waders, to a collection of 500 flies.
For those looking to actually, you know, go fishing (why do you hate Grizzly?!), they're also about to start offering a full-day trek to the teeming waters of Syria, VA, and even have a "travel department" to help you organize and book trips to locations more remote, meaning unlike last time, you won't have to flesh out everything yourself.