Commuter cycles from a place that needs them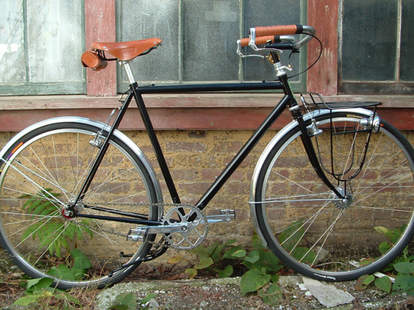 Proud Holliston is notable for a number of reasons, like that it was once the largest producer of shoes in the US, or that it's totally not Fitchburg. Now adding sweet pedalers to its long list of two other accolades: ANT Bikes.
Skillfully crafted and detailed by a longtime Holliston cycle smith, AB's an eye-catching line of high-end, highly functional two-wheelers that're designed with the commuter in mind, and wield the tagline: "not sport, transport" -- a slogan the WNBA reluctantly relinquished after Rebecca Lobo refused to give her two fans rides to away games. Choice models include the Boston Porteur, a front-loaded basic single speed w/ French-style alloy fenders; the dark red (only 27lb!) 3-speed Light Roadster with sweep back bars and a brown leather saddle; and their version of racing/sport cycles (both trail & road) which rock carbon fiber tubing and're dubbed Fire ANTs, hopefully not because sitting on them for an extended period of time really bites. Should you like your jaunty cycling to elicit more stares, they've also got less traditional conveyances like the Frontaloadontome Cargo bike rocking an extended frame and smaller front wheel set below a giant wood flatbed rack; an antique wooden showbike plated in copper; and The Scorcher, an 1890s-aping model with mustache bars -- though back then, weren't they all?
For the DIY enthusiast, AB also offers a one week frame-building class, plus a crazy-intensive, month-and-a-half apprenticeship during which they'll immerse you completely in the world of bike building, and even make you tools, something the Fitchburg school system took years to accomplish.