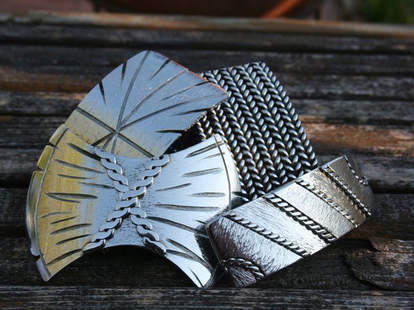 Mark Kalen started out making beautiful custom parts that motorcycles didn't need, but certainly wanted -- and now he's doing the same for the two-wheeler that is you, with a line of mewelry that pays homage to his biker beginnings with stainless materials and designs such as tire tread patterns, allowing you to say "Tread on me!" without upsetting Metallica's sense of patriotism. Some of the goods
Exemplifying the handcrafted elements of Kalen's work, the Hammered Dog Tag is embedded with a stainless steel rod that's been given his signature design, the funky chicken twist

Made to match a pair of jaggedly intimidating handlebar grips, these Shredder Cuffs are also great for destroying sensitive documents, only to have that lady from ABC's Scandal damningly realign them. Damn you Scandal lady! Why did you have to be the very best in the business

He also makes a slew of belt buckles ranging from the Triple Thread (above), to steel-framed TX flags accented with grain leather or genuine python skin, something that python needed, but certainly is no longer wanting.