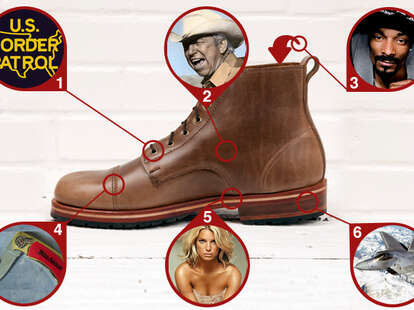 To honor the upcoming Railroad Revival Tour -- in which Willie & Friends (& friends) will travel cross-country via train -- local bootsmiths HELM are releasing some damn handsome limited-edition kicks (pre-order NOW, they will sell out). HELM says they're inspired by the guys who worked on the railroads many live-long days ago, but if you look closely, the boot's features also neatly reference the Red Headed Stranger:
The shaft's adorned with six brass lace eyelets, matching the six Os Border Agents found on Willie's tour bus in 2010.
The Horween leather exterior is tough enough to protect Willie from bullets and even more dangerous curse words fired at him by Honeysuckle Rose costar Slim Pickens.
The interior is also leather, much like Willie's internal organs, which is why he and Snoop Dogg are encouraging relatives to "Roll Me Up And Smoke Me When I Die" instead of donating their bodies to science.
Blake Rapid Stitch construction -- double-layered to decrease moisture build-up -- is also ideal for stitching yourself up if someone stabs you with this Willie Nelson & Family knife.
The lug sole's made for walking through the toughest terrain, from Fire and Rain, to duets with Jessica Simpson.
The heavy-duty logger heel offers much needed posture support for the nagging back that got Willie discharged from the highest of armed forces, the Air Force -- which Willie clearly doesn't miss, since he now travels only by train.