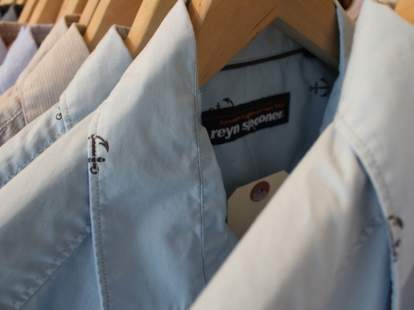 When someone known for their obnoxiousness tones it down, the results can surprise -- Adam Sandler's role in Punch-Drunk Love made even his harshest critics believe he was all grown up, credibility he didn't entirely blow until he made Grown Ups. Bringing their toned-down take on fashion obnoxiousness to the ATX: Reyn Spooner.
Just into Service as part of a crusade to tip their fashion scales from plaids to prints, Reyn's been subduing loud vacationer style since 1956 by giving said prints the appearance of the shadow-patterns you see when you flip a Hawaiian shirt inside out, a look commonly referred to as "I also wore this thing yesterday". Duds already on display or due in within days include button-ups like a baby-blue number with minimalist anchor patterning, a slightly darker blue guy with a medallion Foulard-style print (a traditional early 20thC pattern), a dark navy job with a tessellating parasol design, and a dark brown long-sleever with restrained paisley notes, though it's tough for Brad to hold back, because for a redneck, dude can shred. To cover your thighs, there are charcoal and blue short swim trunks with a blossoming print, as well as two-tone boardshorts with a double racing stripe, a stylish reminder of the emissions that help create those so-beautiful double rainbows.
Reyn also has a sleek webstore with their full collection, including their ultimate-in-casualwear, cotton baby-blue printed pants -- so you can still shop if your car is out of Service, and you can't even be bothered to walk The Longest Yard.