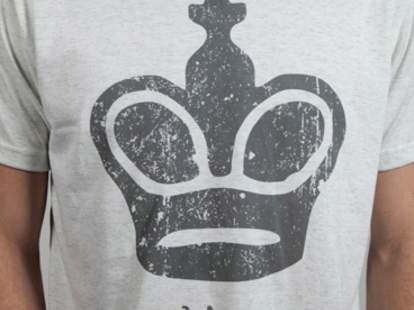 Even if you love your work, it always helps to have another outlet, which is exactly why Frank Stallone invented power strips. Using their outlet to make gear for you, the dudes behind Bush + Leavenworth.
From two college buddies who work as big-time pro animators in the movie industry yet needed another creative outlet, B + L (named for the block they lived on while at the Academy of Art) rocks simple gear that's "artistically driven", just like Miss Daisy after Morgan Freeman completed that MFA. Highlights from the sophomore line:
Fillmore: This black, 100% polyester light jacket comes with four zippers that wrap around the coat from front to back, plus a hidden front placket and an inner chest pocket, also one of the more pragmatic reasons Heidi Montag wants detachable breasts.
Montgomery: A red/black/white cotton button-down, M features a triple front placket, signature embroidery on the bottom hem, and a fit that's slim -- you lose, Fatboy(s).
Luchador: This extremely soft flint grey tee's got a jacked cartoon Mexican wrestler on the front yelling out "I win. You lose!!!", which is also a slightly more elegant version of the speech Keanu Reeves keeps on his person when attending awards shows.
They've also got tons of other new stuff, like a lined, kangaroo-pocketed, super-soft hoodie called the Fell -- which is exactly what your business would do, if Frank Stallone decides to knock your power the f*** out.