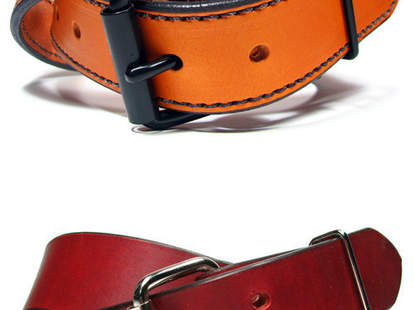 Sometimes the old ways of doing things are best, while other times it's preferable not to treat your flu with heroin and blood-letting. OK, maybe just the bloodletting. And what, no leeches? Bringing you the best of old-timey leatherworkin', Tanner Goods
Handmade in Portland with premium, domestically sourced leather, Tanner's goods are assembled the old fashioned way, largely with antique equipment and under the tutelage of a heritage saddlemaker who's been in the game since 1964, simultaneously electing to make johnsons more comfortable and comfortably electing Johnson.
Vegetable-tanned English bridle leather's used to make the beltage, coming in a variety of hues (mahogany, Havana brown...), and styles like the contrast-stitched Heritage (with roller buckle), a military-influenced number with two rows of holes called the Double Tongue, and the narrower Skinny (for those given to wishful belt-thinking).
They're also turning out similarly leather'd wallets, including simple utility five-pocket bifolds; the bulkier workman, with attachment grommet & dual closure; and a cardholder with just a single snap, but not a Snap single, as, being bereft of money, it lacks The Power
Because leather isn't everything, they bring sturdy waxed canvas into the mix on tote bags (designed in collab with 3sixteen) that'll hold anything from books to small laptops, because sometimes the old fashioned way's best, but books are pretty much always for nerds.