Sweet shoes with serious name recognition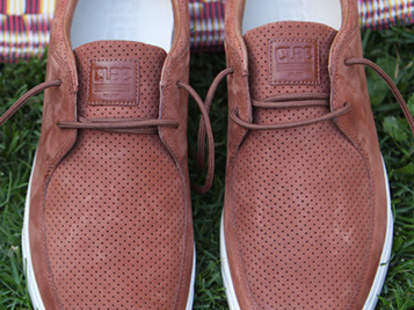 Truly great men only come along rarely, which is why our city fathers were reduced to naming Carpenter Freeway after that guy who directed Ghosts of Mars. Consistently finding great men to inspire great shoes, Clae.
The founding father of fashionable-yet-functional "athleisure" footwear, Clae creative director Sung Choi has always named his styles after inspirational figures, from jazz legends, to hoops hall of famers, to malevolent space villains bent on horrible revenge (actually the Khan was named for architect Louis, but whatever). The latest, all low-tops:
Hockney: Named for pop artist David and avail in caramel leather or camel, charcoal, or navy suede, these subversively understated shoe-kers are said to be "a new classic for both work place and dance floor" -- hopefully not the same place, because it's hard to make a living doing the lawnmower.
Bailey: Featuring perforated nubuck on top and nubuck or leather sides, this one's named after Gil, the longtime NYC DJ known as "The President of Reggae" -- a post that always eluded Ted Kennedy-Marley, "The Zion of the Senate".
Gregory: Honoring groundbreaking activist and comedian Dick, the Gregory's suede-toed, leather-or-mesh body comes in black, navy, white, or concrete, making it equally suitable for treading around G-Ville, or dumping bodies in Lewisville.
They've also got new colorways for old standbys, from the hi-top McQueen to the Velcro-strapped low-top Cousteau -- both deceased, but still so influential it's almost as if They Live.