Upscale. Leathery. Not Joan Rivers.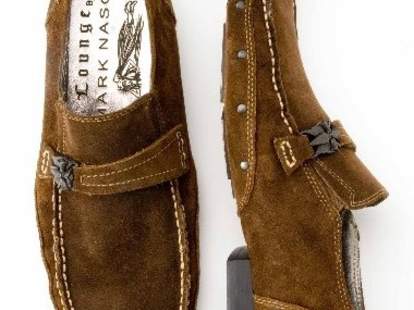 Market expansion is best accomplished fearlessly, like when the NHL moved into Charlotte, but still found a fan base ready to lend support and Ruutu on their team. God the Finns have weird names. Expanding its support of Big D ankles, Mark Nason.
The Los Angelino designer of upscale-casual leather footwear has just dropped new seasonal selections, and has added to the places where you can grab a pair in the Metroplex with Sebastian's Closet and Indigo 1745, but not Mood Indigo, as Sir Duke preferred skateboard-friendly Cara-Vans. Some choice offerings:
Cigar: This majestic, just-past-your-ankle, double-stitched nubuck boot looks like something a 1970s English rock star would wear. Of course, those guys also had sex with other men even though they were straight, but still, sweet boots.
Modern: Armed with 11 rivets and four holes on each side, this leather and nubuck mid-top exudes Gothic-ness as much as a sneaker possibly can -- so if you get athlete's foot, these are The Cure.
Morningstar: With an argyle-esque diamond pattern on the leather upper, these slip-ons also carry the emblem of a dragon on the side heel, clearly inspired by the original dragon heel, Dennis Quaid.
They've also got riveted sandals, a line of even higher-end "Special Reserve" boots you can have custom-built in consultation with your local retailer, and a few wallets adorned with Nason's trademark crosses, religious protection against the age-old curse: Tuomo Money, Tuomo Problems.