A convention for sneak-y people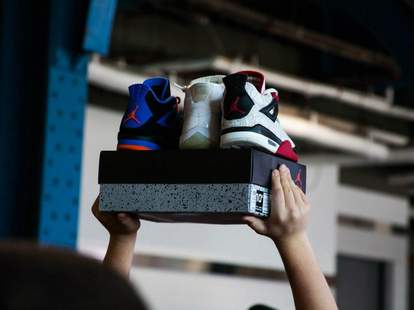 Hey, all you kids with the pumped up kicks: continue running, and use your newfound stamina to make it all the way to City Hall on Sunday, the 29th, for Denver's 1st annual DunkXChange.
Started by a guy angry that he got tricked into buying fake kicks online, the XChange has evolved into a country-wide celebration of all things sneaker, and just drew over 4000 'heads in NYC, though they probably just needed new shoes to outrun the flesh-hungry, human-sized rats on their way to work. All the new and rare kicks are here to buy and/or trade, so enjoy ogling Jordans and Yeezys, be awed by absolute standouts like Air Mags (aka the Marty McFlys), and watch vendors "pull stuff out of a box that's been there 20-30yrs", just like a 7-11 employee stocking a hot dog machine. And it's about more than just the shoes: local boutiques like Sneaks will sell all kinds of non-lower-extremity fashion, while Grassroots Colorado will donate to medical marijuana reform when you buy one of their sports team parody lids, which include the New York Dankees and the Blazemore O's, though that last one sounds like they just got sort of lazy. Which actually makes a lot of sense
Expect live performances by AyeLogics, Tha Landlord, and Radio Ramone, plus 50 Cent'll be there... in the form of his headphone company, SMS Audio! It's cool, though, as they'll be giving away $2000 worth of headsets made by the guy who proved himself not faster than anybody's gun.