Awesomely detailed Cs tees, just in time for the playoffs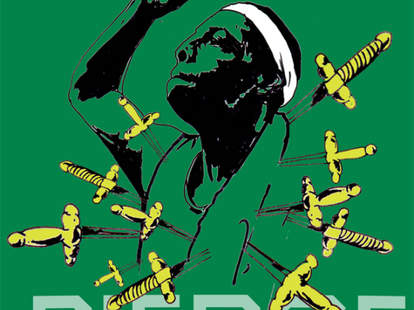 Testing something out on your friends is often the best way to get an honest opinion about it, unless, of course, your friends are freaking liars. Proving his friends at least didn't lie about this, the guy behind Little Beasts.
Now available without having to wander aimlessly around the Garden before tipoff, LB's a fresh line of sickly arted Celtic tees from two local brothers (one artist, one ad guy) who cut their design chops printing small batches of "shirts we want to wear" exclusively for themselves and friends -- but not for Ross, 'cause these things would just schwim on him. Top picks include:
Paul Pierce Because few recover from a stabbing like PP, this clever kelly green short-sleeve dons a fist-in-the-air Caesar-esque bust of the star being "pierced" by 11 golden daggers, which is pretty damn close to the Truth.
Ray Allen A religious homage to the league's top three-point sharpshooter, this crewneck bears a clover/yellow number "20" on the back and on the front, an image of Ray Ray adorned with a crown of thorns as an homage to He Got Game, a film presumably about one kid's battle to -- against all odds -- acquire a game other than Altered Beast.
KG This just-released style rocks an intense KG fiercely tugging at his jersey in between the words "Anything is Possible" -- except apparently Shaq playing more than six minutes without hurting himself. WHY DID YOU HAVE TO LEAVE KENDRICK?!?!? WHY???
LB also peddles an airborne Rondo dishing the rock, as well as designs from other sports like a b/w goalie mask tribute to Bruins legend Gerry Cheevers and one rocking the mug of Cassius Clay, who couldn't test things on his friends unless they were all lying about their distaste for getting punched in the face.