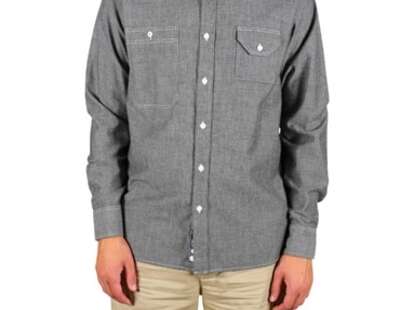 The Beach Boys famously sang that East Coast girls are hip and they really dig those styles they wear, though to be fair, North Face fleeces aren't that hip. For East coast styles that can even work in the West, check up on Penfield
Born in the '70s like your old weird step-brother, Penfield's latest drop is chock-full of classic shorts, pants, and jackets, all inspired by their Massachusetts roots but West Coast-wearable, with the design theme "Life in the Open", also the name of a collection of essays written by notable flashers. Upper-body highlights include the long sleeve, button-collar horizontally striped "Sherborn"; the "Watertown", a cotton Oxford w/ a chambray placket; and the "Barnstable", a light, weatherproof jacket that comes in burnt orange, so it's appropriate for most Situations. If you're no longer going nude below-the-waist, they've got standards like khaki zip-fly utility pants, crazy-ass five-pocket patchwork shorts, and seersucker cargos w/ button-up front pockets on the quad, hopefully next to the hot chicks tanning.
And in case you've got no way to carry your ish around, they also've got bags, including a front-pocketed canvas satchel and a travel bag called the Colrain, and the Oxon messenger with two big front pockets with buckles, which is cool though, Wouldn't It Be Nice if it had a third?