Never use your GF's Venus again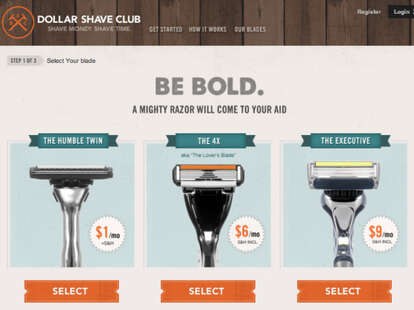 Shockingly not formed by former UCLA point guard/grooming guru Cameron, Dollar Shave Club's an ultra-affordable, LA-based subscription service for razors, just outta beta today and ready to send you fresh blades every month for as little as a buck, provided it's not Mike Dunleavy or Beno Udrih.
There're three options in all, each of which comes with a five-pack of cartridges: either the six-bladed, $9-a-month "Executive", the quad-bladed, $6-a-month "4x", or the dual-blade, $1-plus-$2-for-shipping "Humble Twin," which, despite the inexpensiveness, is still probably Rad(ke). All the stainless steel blades're proprietorially made for the company by "one of the world's leading blade manufacturers", and feature aloe lubrication strips & a pivoting head, plus your first shipment even comes with a free handle -- so you know Nick Nolte is getting in on this.
They're planning on introducing even more products this year, and they've also dropped a video with the full lowdown, which Thrillist is premiering exclusively when you click the link below; hopefully you'll find this as hilarious as the name Luc Richard Mbah a Moute.