Save yourself a trip to Nordstrom Rack!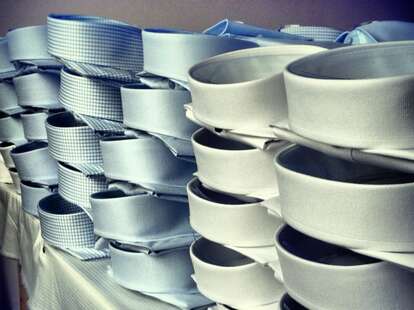 Just now launching in LA, Hall&Madden's a new Zinedine-Zidane-cheap shirt-scription service that'll drop you a shipment of three dressy-but-not-too-dressy bespoke button-ups once every four months, which's convenient, as that's also how often you do laundry/shower.
Here's how it works: first, answer seven easy questions (Height? Weight? Is Empire the best Star Wars movie of all time?...) and then take nine measurements (arm length, neck circumference...), which they can do via appointment or you can do yourself via Internet video, which's far more likely, since you're already used to doing yourself while watching internet videos anyway. Pay $150 for all three, and in just a couple weeks they'll send out your first trio of basic wide-collared shirts; if you like 'em, you'll have a ton of customization options with your next, same-priced shipment, which include contrast stitching, a slew of collar, cuff & pocket tweaks, and European fabrics from designers like Thomas Mason and Albini, aka what Michaels wears whenever he does Sunday Night Football games in Green Bay.
'Cause you're totally lazy (you do laundry/shower once every four months, remember?), they've got a pop-up shop opening next week where you can get measured professionally, or check out stuff from their dressier brand Proper Suit, also what that one guy on Italy has against Zidane.