Choice gear outta Beverly Hills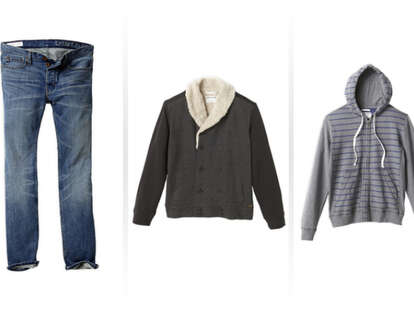 Just launched outta Beverly Hills, Lamb & Flag's either a new, versatile brand of everyday wearables, with a philosophy based on classic rebels like Jack Kerouac and music ranging from the Black Keys to The War On Drugs, or the two things you'll need to win when playing Capture the Flag with wolves.
Assuming it's the former, upper body gear covers single-color hoodies with solid-colored arms and striped fronts (in the dark red "Nightshade" and the bluish-green "Beech"), a slew of Cali-friendly jackets (a mega-pocketed wax-coated number, a double-breasted sweater-coat, etc.), and loads of graphic tees, including a pocketed one w/ a photo of an old-school motorcycle, and another that reads "Bad Girls are Better Than Blondes", though why not just marry Courtney Love and have it all?!? They've also got a full line of denim, with super-skinnys in the light-black "Shotgun Dark", slim fits in the classic blue "Amp Medium", and a distressed pair with the fit defined as Slim Slouch, aka Eminem's sitting position when listening to his Relapse album.
Right now they've only got a store along the information superhighway, but actual physical locations are opening soon on the periphery of the city in areas that're kinda far flung, just like what you're going to have to do with that lamb, if you want to survive that crazy, dangerous game.