The best-fitting pair of jeans ever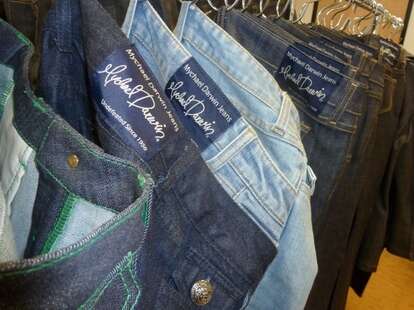 Every once in a while, getting something made specifically for you is a worthwhile indulgence, as you can't go to Cold Stone every night. It's just too crowded. For a dude who'll customize your pants without mashing gummi bears and cheesecake bites into them (unless you're into that), check Mychael Darwin Jeans.
Done by a longtime-fashion industry dude with a deep voice that'd be perfect for Baloo if they ever bring back TaleSpin, MDJ is a fully customizable-to-the-smallest-detail denim operation with a full-service workshop in La Habra, which used to be famous for being the town where Rudolph Hass planted his first avocado mother tree in the 1920s, until it died in 2002. Now everyone just eats salsa and acts kind of sad. Except Mychael Darwin of course, who encourages you to set up an appointment, at which he'll ask you how you prefer your fit (hip room?), and then measure you 12+ times, including around non-standard places like your calf, your mid-thigh, and crotch-to-knee, also the reason you stopped playing soccer. From there you get an entire Georgia Tech football playbook of options, like material (raw/dry, Japanese/Italian, etc.), washes (stone, dry stone, Romancing the Stone), and hardware.
If you're tired of people measuring your crotch-to-knee, you can also browse through some of his already-constructed jeans, all of which contain fancified silk pockets, as it would be tough to jam any more material down your pants. It's just too crowded.