When you can just play around with something for 30 days?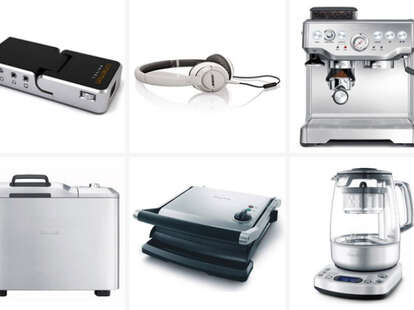 Because your grandmother always said "Why buy the cow when you can first try milk for free through the Internet", essentially do that with ybuy, a Bev Hills startup now in public beta that allows you (for a monthly fee of 25 bones) to try one new product in your home every 30 days, at the end of which you can either send them back, or deduct $25 from the total price of that Crocodile Mile. And to help move you along, here are answers to questions you're sure to already be frequently asking.
What kind of swag we talking? MiniDisc players? Those weird wrestler toys where the arms stretch really far? Though they don't have Stretch Armstrongs yet, they do have a crazy amount of goods from iPad 2s and TaylorMade R11 Drivers, to Keurig coffee makers and iRobot Roombas, to Jawbone Jamboxes and Sous Vide Water Ovens, in case you're aiming to win the award for "whitest person ever".
Did you know there's an actual Stretch Armstrong movie coming out in like 2013 and apparently starring Taylor Lautner? You mean the one written by Nicholas Stoller and produced by Brian Grazer after he allegedly said that dude "is a character I've wanted to see on the screen for a long time"? No, had no idea.
Is there a shipping cost? Are you crazy? This isn't Dubai, or Canada, or whatever. They don't charge any shipping.
How do you know the price of the product is fair? The cats behind ybuy have done "extensive research" into each item and claim to offer the best price, but if somehow you still feel like they're lying to you, they'll even offer to take whatever you've got back and send you a refund if you find it cheaper somewhere else, because, like your grandma always says, "Sometimes the best cows can actually be sent to you cheaper from China".