Classic duds, from an already proven duo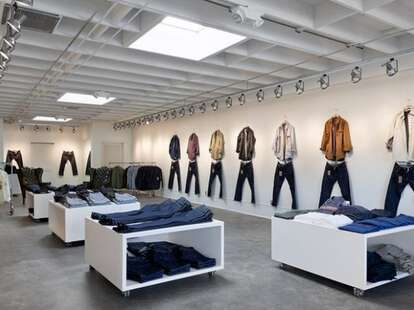 They say success breeds success, which was true, until they found out labradoodles are much more lucrative. For gear from two successful dudes who haven't moved onto dogs yet, check out Civilianaire.
Just now open on 3rd, Civilianaire's a simple, stark, sunlit nook of a store carrying just its namesake brand, which's composed of classic staples (jeans/ button-ups/ etc.) from the two guys who founded the well-known denim company Lucky Brand...so, Katy Perry's husband? The gear's entirely American made, w/ jeans obviously being the flagship; each pair's made from gold Japanese selvage, features a nickel/copper zipper with a pull embossed with a cutout "C", and's available in slim and regular fits, depending mostly on whether they've had a nap. They've also got two denim jackets; a schload of different-fabric'd button-ups, w/ options including utilitarian-looking, four-ply work shirts (in gray, black, olive, stone, & khaki) & lightweight corduroy in chocolate brown and burgundy; and a slew of knits (pocket, long sleeve, v-neck, etc.), which're made from slub yarn, but not schlub yarn, as this isn't a story told by Seth Rogen.
In addition to the 3rd Street store, the gear's available at Ron Herman, and they're also just about to open a second store in Montecito -- an exponential rate of success that suggests they'll soon be wealthy enough to not even care who let the dogs out.