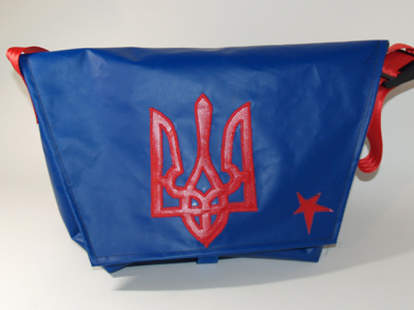 Just when you thought the only stylish things to come out of semis were trucker hats and that guy on COPS in the leopard-print leotard, Stellar Bags is popping right out of your blind spot. Just launched by a St. Paul-ite, they're constructed outta the weatherproof vinyl typically used to cover open-top semis, and came about when the founder quit his day job after buying a "sick industrial sewing machine", which he presumably had to nurse back to health before creating:
Messengers: These sturdy, vaguely Jestons-y satchels come with a red or black shoulder strap, a black or blue liner, and eight exterior color choices including forest green, which hopefully won't run.
Totes: This open-topped shopping-style bag comes in all the same color options, plus two more for the straps -- also what you should carry around so that no one makes fun of your open-topped shopping-style bag.
Shoulder Bags: Doing everything they can to not be called purses, these guys are basically just mini-messengers available with all the same options.
Should one of the existing styles not be your bag (or should you just want to add your own logo or design), Stellar's always down to do personal jobs, just like that trucker in the leotard.