Next-level wallets and whatnot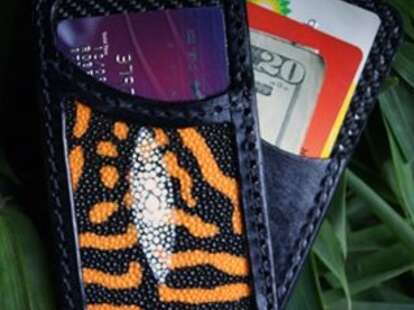 Becoming a successful pilot requires dependable equipment. And someone from Friends that isn't Joey, Ross, Chandler, or Phoebe. Cougar Town is popular, right? For dependable accessories crafted by a not-made-for-TV pilot, check out Vvego International.
From a dude who's been flying for 20+ years, Vvego's a collection of wallets and sleeve-cessories meticulously handcrafted from top-notch materials to both function as reliably as a jet engine, and look good enough to "make you do a double-take", though keep in mind that neither Eddie Griffin nor Orlando Jones headlined another movie after they did theirs. The Pivvot wallet takes him a full day to produce, and's made from two thin panels of stingray or cow leather (sporting carbon fiber pockets) that slide apart like a carpet sample book via a corner pivot; the Vvault biz card case, meanwhile, is made from the same materials but has just one pocket, also the name of Rick Allen's latest side project, as he can't be in more than one at a time. The crop continues with classy round cufflinks including a beryllium copper pair inlaid with green turquoise, another machined from ebony and set w/ white turquoise, and a titanium number with blue-green Malachite that's been seriously polished, which he should be considering he had the mistakes of the previous 11 minor prophets to learn from, if you know your Hebrew Bible, canonically speaking.
He'll also work with you on the custom tip, doing up cufflinks for your wedding day, or a special wallet you can use while you "kayak around the world", something all of the non-Monicas will have plenty of time to do before getting another pilot.