The greenest kicks ever made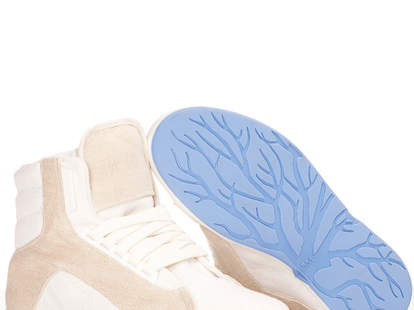 It's said that beauty can come from decay, so don't be surprised when Amy Winehouse's next album absolutely kills it. For kicks that beautify the world when they're trashed, there's Oat Shoes.
Developed by some major eco freaks in Amsterdam, Oat's intent on revolutionizing fashion and the environment via stylish-yet-biodegradable sneaks that, when disposed of properly, will actually sprout wildflowers (though it's up to you whether you tell people your shoes are for pansies). Debuting in four colorways, their inaugural "Virgin Collection" channels '80s steez with simple white cotton/herringbone hemp uppers and "biocompatible plastic" pastel soles that sport a tree-branch pattern on the bottom, including the skater-ish, low-top Yellow; the all-white-upper, tennis-style Green; the wide-tongued, hi-top Blue; and the Red chukka, though Morgan Freeman's old enough you might break his hip. When all irrevocably beat up, bury 'em underground to initiate a degradation process taking a few months, unleashing a hidden pocket of varied wildflower seeds residing in each tongue that'll sprout when exposed (hopefully your sprouting-when-exposed leads to deflowering).
Though they're "not 100% sure" (and they "kind of hope they do...it would be hilarious!"), the seeds shouldn't sprout just because you get your kicks wet and dirty, which fortunately can't be said of Amy Winehouse's sublime creativity.