Hard-to-find gear downtown that's actually new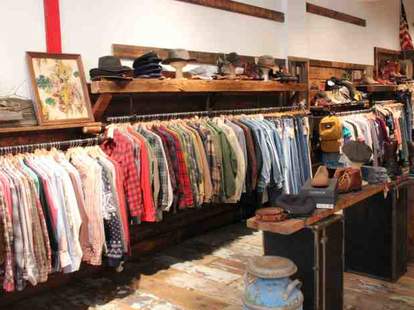 An offshoot of the North Mississippi go-to for vintage rough 'n tumble apparel, Animal Traffic's new West End digs are delivering tons of rugged, only-found-here, not-worn-by-someone-else gear (plus the presumed used threads) in a fort with walls that're a collage of salvaged wood and touches like an ancient wagon bench, also a popular training exercise for the Ukrainian weightlifting team. The muscular goodness:
The New: Fresh gear from tough-to-find American-made brands include canvas knapsacks modeled on old-school scout numbers from Duluth, bow ties cut out of vintage plaid dead stock from NY-based Forage, hand-cut/-stitched leather workboots from White's, oiled canvas wire-rimmed hats from Dorfman Pacific, and smaller goods like Stanley flasks, because you know dude's gotta drink to put up with Dwight all day.
The Old: Traffic's taken a curatorial eye to their West Side stock by weeding out obviously altered pieces, and stocking racks with crisp Army-green surplus field coats and tough-looking shearling collar jean jackets. You can also OD on denim with classic Levi's 501s and 517s, or grab pearl-button cowboy shirts and wool Pendleton button-ups, whose perfect fit is assured by tags rocking meticulous garment measurements for sleeve, shoulders, tail length, and chest -- which, after a couple decline Ukrainian goat benches, should be completely massive.