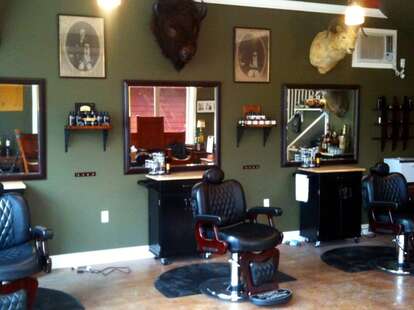 There once was a time when a man could walk into a barbershop and get exactly what he wanted, whether it was his go-to haircut, a classy shave, or a sequel where the dude with the knucklepuck who works at Good Burger is really annoying and sucks at cutting hair. For a barbershop rocking ice cubes in your Scotch, check out The Modern Man Barbershop and Gentleman's Supply.
From two tatted-up biz partners, Modern's a full-service, throwback tonsorial parlor falling somewhere between To Kill a Mockingbird and Deadwood, where dudes can get a drink, a cut, and a smoke beneath the gaze of taxidermy in confines that smell of old leather from ancient masonic lounge chairs, and sound like the 1920s thanks to single-tubed radios pumping out jazz, who figured they'd better do something during this damn lockout.
Drop in appointment-less, and Modern's barbers'll set you up with a Scotch or whiskey (no Midori...yet), then guide you to one of three handmade wood "Bentley of barber's chairs", where you'll enjoy cut options ranging from a classic trim to a straight razor neck touch-up, before browsing the complimentary Cirmes scent bar, and enjoying a free cigar or cigarette from Nat Sherman, to quickly undo whatever good that scent bar just did.
Modern also rocks supplies including intricate clockworks-made money clips and rings from SF's Compass Rose, beer soaps and grooming goods by Urban Lifestyle, and a selection of vintage pipes, though how they manage to get Bing Crosby into the display case is anyone's guess.
Because they're big into community involvement, Modern has pledged to offer free VIP service to any dude who's out of work/homeless and needing to get cleaned up for a job interview, which Kenan totally would've failed if he wasn't Cube's cousin. Knucklepuck!