Neckwear made from shirts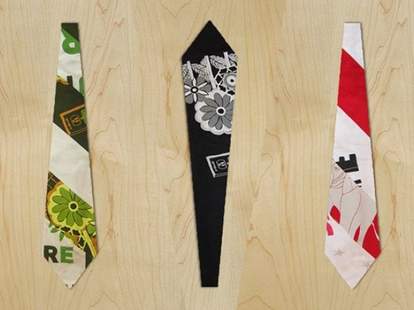 Since you've always wanted to wear a t-shirt to a job interview, now you (kinda) can, thanks to Triple-S, the cottony baby of a PDX guy who turns dead stock from his own graphic line into one-of-a-kind ties sporting anything-but-staid slices of the original tee's artwork, which were presumably fool-pitying watercolors of his gold chains. Here're what these are ready to replace in your rotation:
The Funeral Statement-Maker The Old Tie: If anyone asked, you'd always have to explain that your Star Trek tie commemorates Grandpa Joe's journey into the final frontier. And that he never got along with Tribbles. The Triple-S Tie: Boasting a design by artist Option-G, the somber Black Bird Wire offers a more subtle but still noticeable message about pushing daisies.
The First Date The Old Tie: Why are you wearing ties on dates? Who are you, star of the McNeil/Lehrer News Hour Jim Lehrer? The Triple-S Tie: Since apparently you're insisting on wearing ties on dates/are in fact Jim Lehrer, get the Brown Tree Ring, which can only say one thing at dinner, and that's "I've got enormous, round wood".
The Office/That Job Interview The Old Tie: Thick stripes = power. Or at least that's what Mel Brooks and his brother who own the suit place want you to think. The Triple-S Tie: You want a power tie? Well nothing's more powerful than an elephant! Except maybe a rhinoceros beetle, pound-for-pound, but those don't look good on ties.