Because surf shops are better with motorcycles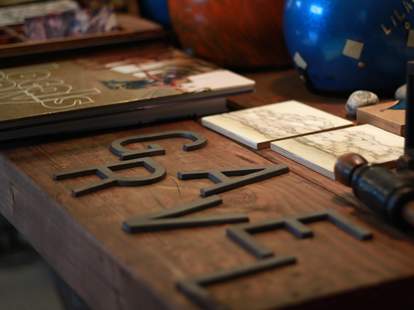 While Seaweed & Gravel may sound like a brilliant pratfall facilitator sure to replace the clichéd banana peel, it's actually just the name of a cool-as-ice surf/gearhead shop in the former Leucadia Surfboards space, put together by a professional surfer hailing from the mecca of shred, New Jersey(?), and a "never-grow-up-non-conforming-weirdo" friend he met while riding for Split, before they both decided to do exactly that. So make like a goose and gander around the store to find:
Duds: Sourcing from vintage dealers and even their own closets, they'll be keeping the aesthetic honed tight with motorcycle-inspired finds like boots, cafe racer jackets, buttondowns, and locally screenprinted S&G tees including one with an old depiction (originally done by one of the owner's grandfathers) of Sitting Bull (so... Brian Scalabrine?).
Boards: Even though they're mostly unused, the stick collection skews away from high performance towards classic longboards, single fins, twins, and weird hybrids like a single with two keel fins. Even better, most are shaped by the Doc from Surf Prescriptions, who's always around for tunes should you actually want to use your stick and not just wax it with your wetsuit half-zipped while quoting Blue Crush.
Bikes: Mirroring the business model of Jimmy-O's, they'll be stocking the place with rides from pre-1975, sourced-from-private-seller bikes running from stock classics, to upscale customs, to rarities like an olive green 1940 Indian Chief just like the one Steve McQueen rode on the cover of his posthumous photo-biography The Last Mile, which chronicles the three years before he, too, uh... split.
Photo by Melissa Dilger