Hat masters open their doors in the Gaslamp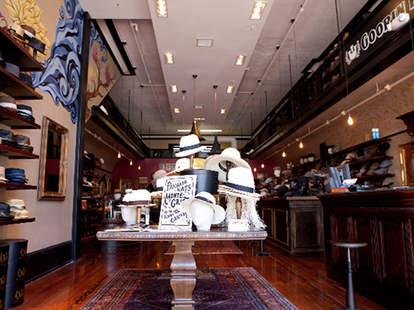 Hats can say a lot about a person: a cowboy hat says "I'm from the South", a Padres brim says "I enjoy sports", while a jester's cap says, "I better actually be Jester from Top Gun, or I deserve to be pummeled by the dudes in those first two hats". Certainly not jesting about having a sweet selection of choice head toppers, Goorin Bros, now open in the Gaslamp.
Founded in 1895, GB's a SF based milliner who just popped open a new shop in that district where lamps aren't electric, decked from wall to wall with classy head coverage and dark wood display cases featuring a spring-summer '11 collection that "focuses on classic and vintage fabrics". Check out all the styles you'll want to procure if:
You want to look like Robin Thicke, or the owner of a semi-luxe club: GB's staple fedoras include the banded and buttoned, paper straw/ polyester "Hammond" in five colorways, and the horizontal-stripe banded, cotton/ polyester "Downey II" in four versions, though none of them could save Due Date.
You want to look like Christian Bale in Newsies, sans anger issues: Their latest edition of news-slinging caps (or the Gatsby, as it's traditionally known) range from the polyester-lined blue and brown plaid "Gino" to the gray pinstriped, wool-and-polyester-lined "Rooster", named for the cocky gent who wishes to hide his lack of crown.
You want to ironically look like Jason Mraz: The Bros are also slinging authentic Panamas from Montecristi in a variety of black and brown banded styles (with and without intricate weave design accents), all made by authentic Panamanian hands only at night so the straw is moist enough to be pliable, though give Darryl another kind of Panamanian product and even in the morning, he'll be pretty damn pliable.
They've also got a slew of classics from Indiana Jones-esque Western styles to top hats and bowlers, which is yet another group that isn't afraid to strike a dude wearing silly hats, even in jest.