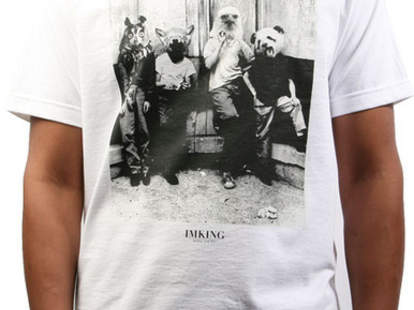 Just hitting The Attic, OC-based IM King (short for Imaginary Kingdom, not Don's informal introduction) has dropped a range of cleverly arted tees that're both aesthetically handsome and smart, just like Chargers practice squad wideout Bryan Walters -- no joke, dude went to Cornell! Some prime exhibitions of royalty include:
Bang Bang: This number is boldly fronted by a snub nosed revolver pointed skyward, melting Dali-style into a puddle, which is clearly meant to portray the, um, contradiction between, uh, paradoxical...next one!
Amped: Snag this gold-haired surfer dude with a red hip tat and a ghetto blaster for a head, whose skinny body and long locks actually means, on second look, this could be a chick, also the exact opposite of the most frequently heard phrase in Tijuana nightclubs.
Shady: This tee features pink, sternum-dangling, Wayfarer-esque faux eye shields and is subtly accented by off-white lettering giving the order to "give em hell" without specifying a target, so be wary of dudes wearing this one, unless it's Bryan Walters -- a Cornell man never lashes out in anger, unless someone mistakenly confuses his alma mater for Colgate.