Wave-addicted duo get to work between sets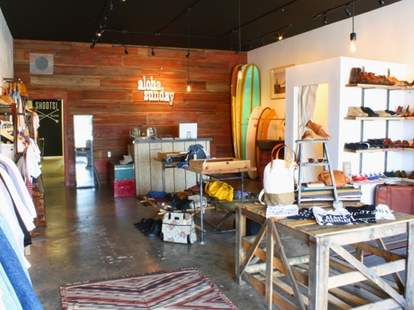 Surf-inspired clothing is heavily entwined with SoCal counter-culture, though it probably wouldn't be if someone just knew how to undo a hitch knot. For takes on shredwear so grown up they probably also know about binding knots, check out the gear at Aloha Sunday Supply Co.
Just opened in North Park by a couple of former Jedidiah employees (one a team rider), ASSC's a "country-meets-sea boutique", decked out in reclaimed Oregon-barn wood and prime estate sale finds, offering a more mature take on surfwear because they feel "most of it's geared toward younger kids" who're too young and stupid to get how hilarious your Big Johnson tee is. Threads by others include button-ups and a red windbreaker from Life After Denim, plaids from Zak, and a denim-backed blue/ white pinstriped vest with a front accented by buttons made from buffalo head or Indian head nickels that's a private-label collab with LA's Chuck Willis, who obviously missed his calling as a renegade Texas Ranger who infuriates German terrorists. They've also got their own line of tees made using an old-school manual screenprinter like the the overboard-buoy-surrounded shop label "Life Saver", and a self-deprecating number scrawled with "Go Back To North Park Kook" -- replace "Park" with "Pole" and you can pretty much forget about getting that new Big Johnson tee you'd asked for.
And in case you'd prefer eyeball covers/surfboards, they've got a hefty selection of Shwood's (including their newest models) and will soon exclusively house locally shaped boards from Sharp Eye, which is definitely needed when trying to undo the standing end of that hitch.