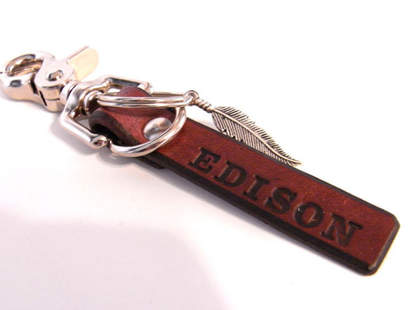 Building things by hand can take a lot of work, unless you're Troy Aikman, and each of your hands is the size of a moderately large backhoe. For a man doing stuff by hands that are probably normal human-sized, check out Edison Manufacturing Co.
From an SDSU dude who worked as a graphic designer (among many other things) in the local skateboard industry for 10yrs before missing building things by hand, Edison makes badass, handcrafted, mostly leather goods out of his SD studio, ranging from wallets and bags to keychains and cuffs so arresting you'd swear only Legedu Naanee could pull them off. Choice picks include:
The Logo Flap Wallet: This 100% leather, 4oz money-keeper is hand-sewn with waxed thread and comes in Coal Black, Mahogany, or Saddle Tan, like most of the ladies hanging out at the Rancho Riding Club.
Waxed Canvas Tote: Stop putting your groceries in that DuckTales-edition JanSport (then immediately send it to Thrillist for safe-keeping), and snag this bag, which comes with a cotton duck canvas lining, brass hardware, hand-cut leather straps, and pockets with snap closure, also how the Men on Film insist on ending relationships.
Font Bullet Casing Keyclip: Upgrade your lanyard to one of Edison's hand-finished trigger clips, which come with a branded piece of leather, as well as unique attachments like a reclaimed shell casing from a shotgun, or a skeleton key, though the key to Troy Aikman's skeleton will come when scientists figure out how hands the size of monster truck tires were attached to a regular man.