Watches, now with more crystals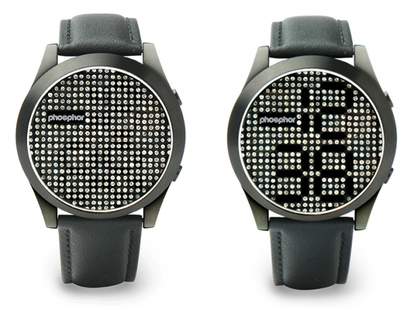 Crystals have long been a unique source of power, whether they're stacked together to build Superman's Fortress of Solitude, or smoked, thereby turning him into the Man of Steal... My Own Stuff And Sell It To Pawn Shops. Crystallizing your wrist piece's power, The Appear by Phosphor.
SoCal timekeepers Phosphor've just released the ultra-blinged "Appear" line, featuring first of their kind watch faces that have mini-sized rotors completely covered with Swarovski crystals that "revolve to reveal numerical or chronological information" and change position on the face of the watch by receiving an electrical pulse every minute, giving them at least one thing in common with Dick Cheney. Wrist wrapping comes in three leather options (matte black, or gloss black/white) with the basic time mode a 12hr display in which the minutes are placed below the hours on the face, though it can also switch to an Off Mode in which the entire face is just crystals, which tested much better than Flip Mode, in which the entire face looks like Busta Rhymes yelling. Though you'll probably take it off before paddling out and/or crashing pool parties, the case is "water resistant" to 50m, and comes in either a blinged-out jeweled version or a more manly one with silver metal, also what they call the vocal stylings of Ronnie James Dio. RIP, old metal dude.
Soon enough, the rotary'd digits will also be customizable with anything from rare gems, to iridescent paint, "to almost anything imaginable", which is very cool, though just getting your iPod Shuffle back from that pawn shop first would be super, man.