Because poorly dressed monkeys are gross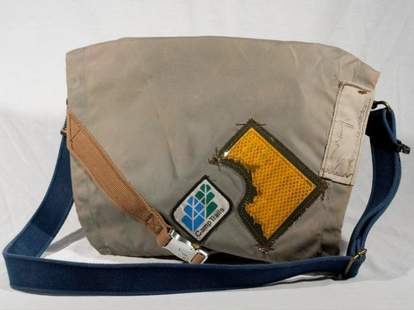 Portland is well-known for all sorts of things, from having intense hipsters that dumpster dive for dairy products, to being jealous of all the crazy sun we get here in the wint--what's that? Portland, Maine? Okay, so maybe just blueberries or something. Well make that blueberries and handcrafted bags, thanks to the Portland (and Brunswick!) creators of Dappermonkey, who make each of their sweetly monikered totes out of rescued vintage/military materials, and will have you know that Maine is also the number one exporter of toothpicks.
Feast your less-well-dressed monkey eyes on samples like the:
Tartan MacBook Case If you like that movie Made of Honor specifically for the part where Patrick Dempsey and definitely not a stunt double rides a horse through Scotland, then gets bucked off into the chapel right when the priest is asking if anyone has any objections, then you're clearly into subtle symbolism and will thusly appreciate this 15in custom computer case cut from an old plaid flannel.
Van Aller Rucksack This drawstring pack's got vegetable-tanned leather straps, hand-hammered copper rivets, and brass buckles, and is made of canvas salvaged from an Army pup tent, which was absolutely adorable until it got older.
Canvas Tote This 12in bag features handles made from old window weight ropes and is stitched from the 1951 standard issue military duffel of Capt Fred C. Wall Jr, so buy it and you can tell everyone he's your Maine man, until he tires of you and throws you in a dumpster.