Zeeze German sunglasses are wunderbar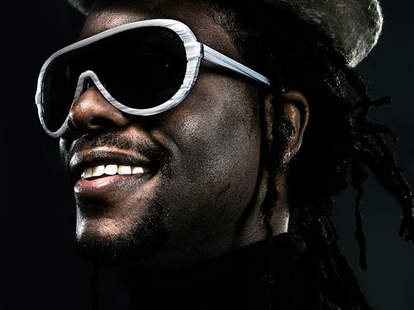 Funk has always attracted visionaries, though really anyone could be considered a visionary when they're the only ones carrying a tune called Flash Light. Enhancing your vision without using batteries or George Clinton, Funk Royal Optics.
Expanding their stateside availability after years of dominating European visages, this Bavaria-based brand slings outrageously styled eyewear drawing heavily on '60s/'70s fashion for inspiration, and was created by a guy called Dieter Funk, who believes when it comes to design "there is no limit", which is exactly the kind of grandiose statement that'll Make 'Em Say Huhh? Their signature "Royal" line of stunna-style shades include an angular take on Wayfarers called the Mock King that comes in several translucent um...shades, like black and a deep golden "honey"; the T-Pain-ish High Q, rocking a single contoured lens inside their oversized frame; and the Dick Deluxe, which's fronted in black but on the inside boasts vivid colors/ patterns like turquoise or a gold "glitter checker", also the one position 20th Century Fox really should have filled in 2001. There's also a line of all acetate numbers called "Funk Food" which range from the Wayfarer-ish Dim Sum in several matte colors, to the sports-inspired Tortilla, to blinged-out joints with giant square lenses called Chili con Carne, but not Chili con Carnie Wilson, though those would be phat, if she didn't get that damn lap-band.
On the corrective vision front FRO offers a range of frames named for figures from ancient history including Norse legends (the nebbishly circular Odin spectacles), Romans (the heavy Oktavian frames), and Greek mythology, which is represented by the titanium CHAOS, something sure to be unleashed if war ever goes Atomic, Dog.