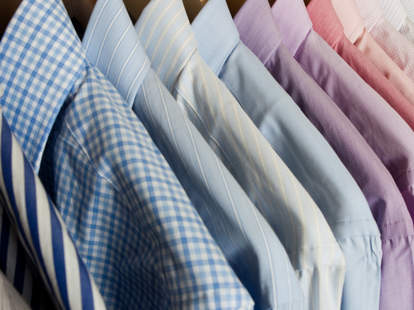 Because freshman and sophomores rarely get ass, check out the new third collection from the District's Hugh & Crye: evoking classic American style and materials while (you guessed it!) blending in a hint of modern appeal; they're all offered in the brand's signature nine different sizes "designed to flatter the body", though now that he's not governor any more, what's the point? Swath thy torso in:
OCBD (oxford cloth button-down shirt) These two-ply 80s cotton numbers rock rounded, contrast-white collars, and come in seven different colors like the pink-ish "Punch 'Stache", which already has Chuck Norris joke writers hard at work.
Cutaways For the more understated collar-man, these 100% Egyptian joints are available in everything from gingham to "black and white with banker stripes", though technically, these days they wear orange jumpsuits.
Some Ill New Ties Named for the four quadrants of DC, their first ever batch of neck-sicles are available in patterns like purple pinstripe & fuchsia gingham, and are neither grossly wide nor "too hipster skinny", both of which will prevent you getting through the door at L2.