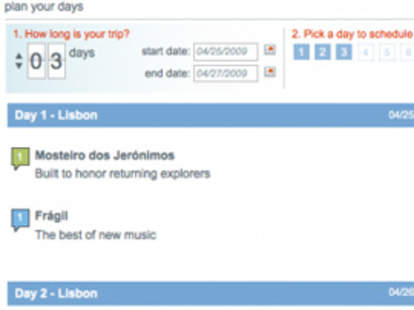 While guidebooks contain indispensable information, they're typically clunky, unfocused, and make you stick out as a tourist -- you'll totally lose any shred of trail cred once the bears in Yosemite spot your Fodor's. Get personalized city guides without all the heft, at NileGuide.
Having just dropped a grab bag of fresh functionality, Nile mines local experts in over 100 destinations to suss out the best of what's around, then lets you cobble together a personalized crib sheet you can print out, covertly fold up, then ball up and wantonly toss into the Grand Canyon before heading on home. Info's broken down by sightseeing, hotels, restos, and nightlife, sortable through tags to help narrow your steez (eg, "boutique" or "hip" hotels, "romantic" or "lively" grub spots), with standard guidebook info augmented by Nile's stable of in-the-know hired guns' personal tips and picks, providing the exhilarating sensation of having a friend whose knowledge isn't limited to sweet stuff in Utica. To build your personalized guide, just create a trip, add selected items to your itinerary, then download it all as a sleek PDF including an overview of your destination, a map of popular landmarks, and a listing of your selected to-dos for each day, complete with mapped locations and a full description, ensuring the only person to blame for not hitting the museum is you...and Rubens, for being all about sensual fat chicks.
Because you actually need to get to these wonderful places, Nile features a simultaneous search for flight, hotel, and car prices from Priceline, Expedia, Kayak, etc, and even lets you book rooms directly through their site, though even Holiday Inn won't accept you once they find out you sh*t in the woods.