The burger-obsessed bro of TAG's growing empire teams up with Strange Brewing Co for a burger-free four-courser that features a braised pork shank paired with Powerhouse Porter, and head cheese/ macerated cherries aside a Cherry Kriek, even though that particular beer pairs best with cougar.
Previous Venue
Next Venue
Venue Description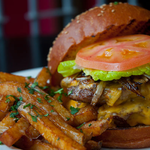 1. TAG Burger Bar
1222 Madison St, Denver, CO 80206 (Congress Park)
TAG's burgers are fully customizable, from the meat and bun (or lack thereof) all the way on down to each individual topping. Paired with the awesome selection of draft beers, adventurous souls are pretty much guaranteed to never have the same meal twice.