Cedar Crossing Tavern and Wine Bar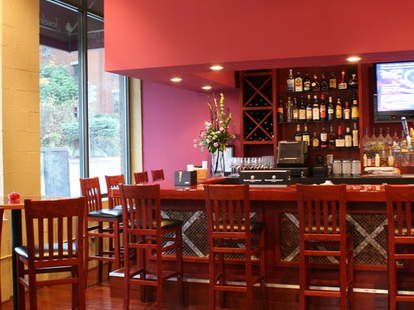 To implement a particular style you need talent well-schooled in it, like when Green Bay tapped Bill Walsh disciple Mike Holmgren to run the West Coast Offense that made Hall of Famers of Montana, Young and -- once the Committee comes around -- Steve "Sonny" Bono. Headed up by similarly appropriate talent, Cedar Crossing Tavern and Wine Bar.
A redwood-covered, wide-open, boozy small-plate nook tucked next to the Takoma Metro to satisfy the days'-end needs of North-bound commuters (and days'-beginning needs of Nowhere-bound hooch-hounds), Cedar's helmed by a semi-Americanized London transplant, who's now overseeing a menu appropriately featuring "European food with an American twist". Small plates check in at $6-8, and include Roasted Pepper w/prosciutto-wrapped fontina, Shepherd's Pie w/mashed potato crust & spicy gravy, Lamb Kabob w/ mint chimichurri sauce, and brioche'd Smothered Mushrooms w/ cognac creme fraiche, allegedly the inspiration for Kool and the Gang's hit, "She's Fraiche". For those not into sharing, they've also got soups (from Curried Butternut Squash w/roasted apple & chutney savion, to Crab Bisque), charcuterie (Sheep's Milk Prosciutto de Parma, Goat's Milk Fra Mani Salumi), and sandwiches like pot-roasted pork brisket, cornish pastry w/ anjou, and the Egg Dipped Frankie w/Smoked Salmon and "Triple Onion Cream Cheese" -- you'll swear you haven't cried so much since the rowboat scene in The Notebook.
For seeing double, they've got wines (20 bottles, 10 by the glass), an "original recipe" Old Overholt Manhattan, and 8 taps, notably including Belgium's Delirium Tremens and Germany's abbey-produced Weihenstephaner -- so when it comes to someone well-schooled in delirium, look to a monk.